NCP Plus from ACS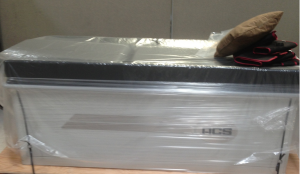 This offer is for a refurbished NCP Plus External Counterpulsation Therapy device originally manufactured by Applied Cardiac Systems (ACS). This unit  is in exception cosmetic & functional condition with very low hours of total use.  This system is virtually brand new.

The ACS NCP Plus is proven to be one of the most reliable ECP systems ever made.  This NCP Plus system offers many advanced features including the automatic ECP treatment reporting, EMR integration & online internet support. 
This is an exceptional offer as there is no visible way see that the system has been used. This device includes one year of full service warranty in the U.S and 1 year of parts warranty overseas.
The offer also includes all brand new accessories needed for immediate use. These items include small & large cuffs, bladders, hoses, ECG Lead cable & finger pleth sensor.  
Unit Price: Email for Price
For questions, you can email us at Sales@ECPtherapy.com.