The ACS NCP Plus is the newest generation model ECP device introduced by Applied Cardiac Systems. This unit is the next generation device after the model NCP-2. The NCP Plus ECP unit has made significant strides with sound reduction, patient comfort, ventilation and overall reliability.  The user interface has changed slightly as the software has a bit of a face lift.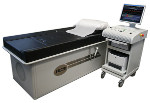 Footprint Size (0.7)

We rate the NCP-Plus as a standard footprint size for the industry.

Patient Comfort (0.8)

This system is rated as one of the most comfortable units in the market today. Significant improvements over previous generations and competitive devices include a thicker, softer mattress, adjustable back, no over delivery of pressure and an efficient inflation/deflation system. Reduction and heat & noise improve the treatment experience for both the patient and the therapist.

Therapist User-Interface (0.9)

This system created the gold standard of technology in the business. All NCP series software provide an automated experience with all aspects of treating patients. No more manual notes, Peak to Peak calculation, and all data is captured minute by minute and stored electronically. The software version was improved based on therapist input to include a simplification of menu functionality.

Device Technological Interface with EMR/EHR (0.7)

The unit has an PDF interface with EMR / EHR with an optional HL-7 feature with an additional cost.

System Reporting Capabilities (1.0)

The NCP Series from ACS is the most comprehensive reporting technology proven by their automatic treatment report. This treatment report holds various US Patents for the reporting capabilities.  Therapists and clinicians have the most comprehensive report of all clinical variables related to optimal ECP Therapy.

Cuff Design (0.8)

ACS cuff design is a sound 4 size inter-changeable cuff design used on all  model units. The improvement comes in the softer, more comfortable material and with the improvement in bladder reliability

System Noise Level (0.9)

We see it as the most quiet machine in the industry. The NCP Plus beats the Lumen-air by a fair margin.

System Reliability (0.8)

Very Reliable. Some customers report ZERO service calls in 3 years of ownership!

Device Serviceability (0.8)

Serviceability is excellent. The warranty cost is approx $5,000 -$7,000 per year depending on location. ACS has the largest service network in the industry which is why the have the lowest warranty costs due to the reliability of this model system.

COST !! (.8)

The NCP Plus be bought today from ACS for $50,000 for a new device. Used or refurbished models are rarely available.
TOTAL SCORE: 8.2