The Vasomedical model TS-3 was the second mainstream model EECP® device introduced by Vasomedical Inc.  The TS-3 is known to be the most reliable device made by Vasomedical.  Vasomedical sold more TS-3 model EECP Therapy devices than any other device. This system was introduced circa 2001 with abundance technological advancements of its predecessor the MC-2.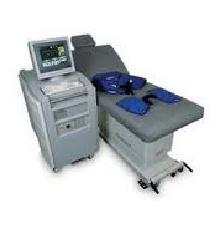 Footprint Size (0.6)

We rate the TS-3 as the standard footprint for the industry.

Patient Comfort (0.8)

The  TS-3 was considerably more comfortable for patients than the earlier model EECP device the MC-2. This unit brought improved patient comfort with a softer mattress and most importantly, the TS-3 removed the "slamming" effect for patients.

Therapist User-Interface (0.5)

This system has no operating system.  Every control of this unit is manual.

Device Technological Interface with EMR/EHR (0.2)

The unit has no digital integration other than scanning the 8 second strip and manually imputing into an EMR.

System Reporting Capabilities (0.2)

System has 8 second strip printed on a thermal printer. The strip indicates the ECG, inflation/deflation timing and arterial waveforms. All calculations are performed manually by the therapist.

Cuff Design (0.7)

Vasomedical is known for having comfortable cuffs that deliver a good squeeze.

System Noise Level (0.8)

The TS-3 is still (to this day) one of the quietest units made.

System Reliability (0.9)

Arguably the most reliable unit ever made by any company in the industry.

Device Serviceability (0.7)

The TS-3 has service available from the manufacturer Vasomedical but the cost of service is at a premium.

COST !! (.8)

Like the MC-2, the TS-3 was expensive in the early years, but can now be purchase used from the manufacturer at a discount price. We see them used for $12,000-$20,000 online for a used machine depending on condition & hours of usage.
TOTAL SCORE: 6.2